Alan S. Michaels, the owner of Industry Building Blocks, leads the IBB Research Team. View
Al's bio on LinkedIn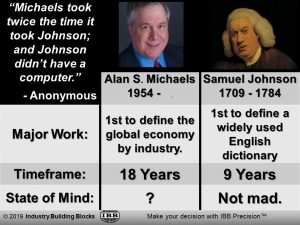 Michaels is passionate, focused and driven to continually improve what is already the best model of the global economy by industry. 
Because IBB is positioned as a pure Research company – and not as a business consulting firm – IBB has been able to leverage its relationships with its business channels, vendors and customers to great competitive advantage.
IBB Advisory Board Members
• Cliff Olin – Managing Director, Olin Capital Advisors Inc
• Jeff Smith – Consultant
• Tom Kowalik – President, Kowalik & Associates LLC
IBB Channels
• Discovery Patterns – for big data analytics and artificial intelligence discovery
• Olin Capital Advisors – for mergers, acquisitions and exit planning
• Kowalik & Associates LLC – for business consulting in Southern Tier NY area
• Exponential Edge – for strategic market assessment and go-to-market strategies
• John R Dundas – for everything else
IBB Access to Additional Research
To increase its research capabilities, IBB has engaged a local firm which provides research data (leveraging resources associated with Binghamton University and elsewhere).
Key Vendor for IBB's Global Economy Virtual Reality Solution
Enhance-VR